MAGNETIC WHITEBOARD A4 SIZE
Magnetic whiteboards have become a staple tool in offices, classrooms, and homes, revolutionizing the way we communicate, organize, and brainstorm. Combining the functionality of a traditional whiteboard with the added benefit of magnetic properties, these boards have proven to be indispensable in various settings.
Magnetic whiteboards offer a dynamic platform for communication. From impromptu meetings to educational presentations, these boards facilitate clear visual aids and encourage active participation. By attaching magnets, users can effortlessly display important documents, notices, and photographs alongside handwritten notes, allowing for a seamless integration of various communication mediums.
One of the key advantages of magnetic whiteboards is their ability to enhance organizational efficiency. Whether used in offices or homes, these boards provide a centralized space to jot down ideas, create to-do lists, and plan schedules. With the added advantage of magnets, important papers and reminders can be conveniently displayed, reducing clutter and ensuring crucial information is readily accessible.
Magnetic whiteboards foster creativity and collaboration by providing a blank canvas for brainstorming sessions. Individuals or teams can sketch, write, and erase ideas effortlessly, encouraging a free flow of thoughts. The magnetic feature allows for easy rearrangement and grouping of ideas, stimulating creative thinking and enabling effective collaboration.
Modern magnetic whiteboards are constructed with high-quality materials, ensuring durability and longevity. Unlike traditional chalkboards, these boards require minimal maintenance and are resistant to stains and ghosting. Additionally, they promote sustainability by eliminating the need for disposable paper, making them an eco-friendly choice.
The versatility of magnetic whiteboards makes them an essential tool for communication, organization, creativity, and collaboration in various settings. Their ability to combine the features of a traditional whiteboard with magnetic properties offers an unmatched level of functionality, making them an indispensable asset in the modern world.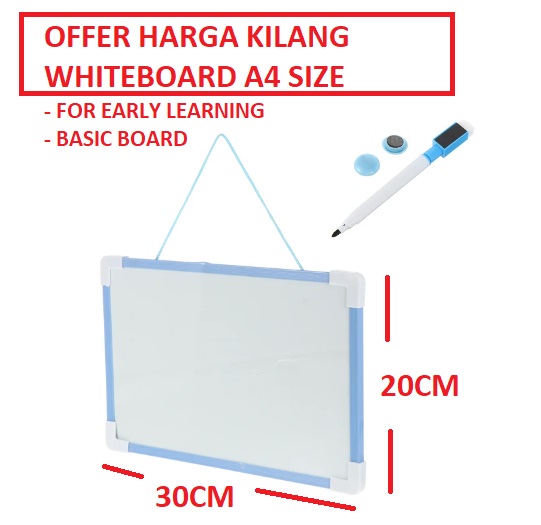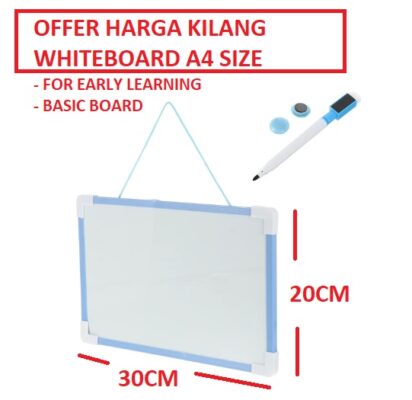 – Portable and handy
– size 20cm x 30cm ( A4 size )
– Magnetic whiteboard
– Set includes: 1 pc whiteboard, 2 pcs markers, 1 pc board eraser,
– Suitable to use as writing board or memo at home, school and office
For early learning whiteboard is without magnetic